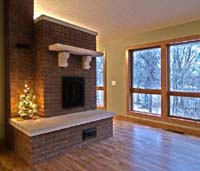 In October, a modular version of the Prairie Dog 2 was set on the land and two months later the home owners moved in!
If there is a modular company within 500 miles of your land , then consider the time and cost savings (estimated to be around 10%) of partial construction in a plant or factory.  Any SunPlan can take advantage of this.   Why not send a PDF version of a SunPlans Review Set for pricing from a modular company along with submitting one to your local builder. Perhaps they can jointly build your home for the best of both worlds.
All American Homes that serves the mid-west to the northeast constructed this home in Indiana by using the design and copyright release purchased from Sun Plans.  They modified the design to fit their personal construction methods and made a few other changes for the client at the same time such as adding a large masonry wood stove to replace some of the floor mass to store the sun's heat.  The home was finished on-site by Easy Living Homes in Indiana and we thank them for sharing photos.  Read more about the Prairie Dog 2.
(As with all SunPlans, it is still recommended to hire a third party home energy rater to assure that proper attention is given to the energy detailing during construction as is found in our plans and specs, and then tested to prove the homes performance. Sun Plans' clients find that the best builders actually encourage this third party verification.)