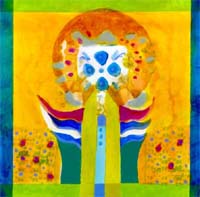 "The Protector", by artist Christina Saj illustrates how the invisible forces of nature protect man-kind much like the sun protects from darkness and cold.
This Winter Solstice and Holiday Season Sun Plans hopes that as you contemplate how you let God into your heart, you also consider how to let the sun's light and heat into your home.
Sun Plans can assist with sun-inspiring a new home or an existing house.
This Winter Solstice E-newsletter includes:
Featured home, the Prairie Dog 2 – Sun Plans meets the factory
Custom Services from Sun Plans –  Many ways that Sun Plans can help
Sun Plans interviewed by Mother Earth News! – Read the article
Introduction of new house plans – See four new designs
Prices roll-back to those of 2008 – More savings to you