I hope that you enjoy spending time in the sun with your family during this holiday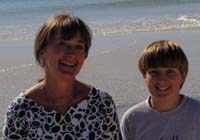 season.  If you get some free time indoors, you might enjoy reading my comments on current trends in house design. 
I look forward to assisting you and your family with your sun-inspired home design!
Happy Winter Solstice, Merry Christmas and All the Best in the New Year!
Sun Plans Inc.
Debra Coleman, Architect, AIA & the Sun Plans' Team
251-341-0509
www.sunplans.com
Sun-Inspired Design: the gold lining of green building