Sun-Inspired Design makes sense!  When creating a new home design, Debbie suggests a small footprint to minimize foundation and roof costs, right-sized rooms that don't waste space and right-placed porches that selectively block sun while creating outdoor living spaces.
Windows should be right-placed to capture views, allow in winter sun, minimize summer sun and balance interior lighting and natural breezes.
Custom Energy Specs written for your climate and your energy priorities (whether they be code minimum or net-zero) along with right-sized HVAC (heating ventilation and air conditioning) should vary with the climate.
Allowances for present or future additions of active solar (hot water or photovoltaic panels) and the creation of exterior designs suitable for the climate and personal tastes (whether it be craftsman, southwestern, contemporary or traditional) should be addressed.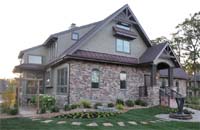 The concept of passive survivability should be considered to prepare the home for natural or man-made disasters – making the interior as comfortable as possible without depending on the need for fuel, electricity or water from other sources. It's a type of back-to-basics independence for high performance homes that addresses the comfort standards and expectations of today. It's nature-inspired livability.