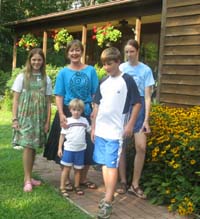 While it can be inspiring to learn while reading from the many energy-related magazines and websites that make information so accessible, it's important to still make time for playing with and learning from those young in age and young at heart!  We love seeing pictures of your bright and sunny home with your friends, family and pets that keep you young.

Let us know how we can assist you in creating a sun-inspired home in which to age comfortably and stay young at heart.

Japan's misfortune has made us more appreciative of those who inspire us and bring joy to our life.  Our thoughts and prayers go out to those who have incurred a loss and we give hope that any rebuilding accomplished will be so with nature-inspired design.

Enjoy the refreshing spring season and the natural breezes as passive cooling begins to replace passive heating in a sun-inspired home!
Sun Plans Inc.
Debra Rucker Coleman, Architect, AIA & the Sun Plans' Team
251-341-0509
www.sunplans.com
Sun-Inspired Design: the gold lining of green building
(We apologize that we have not quite figured out the quirks of the text editor in the web-based newsletter to make all the text consistent!)