Below we share comments from those living in or building a sun-inspired home.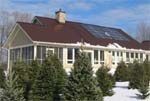 Bruce in New York, in Ryan's Retreat shared with us:
 

"The passive solar design was definitely the right decision and we see those advantages more and more with each season we go through.  We love how light the house is and how warm it stays (especially when the sun has been out during the cold days).  I often tell people that my favorite thing about the living room is that it feels like you are on an outdoor porch, but you are inside."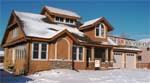 Matt Fredell, builder with Innovative Structures in the Denver area, sent a photo link to his Facebook page with photos that include a huge banner proclaiming:

"Let the sun heat your home!"
Matt is building a spec home variation of the Adirondack Atrium.

Todd from Oregon told us about his Equinox Homestead:
"We have a Tulikivi masonry heater, which we love.  The light in the house is fantastic, and when you get a nice sunny day in January the house heats up really nicely- don't need to build a fire on sunny days."

Conni from Montana sent us their newsletter full of photos illustrating their passion for the outdoors.  Their French Cowgirl home in Montana has a ships ladder that leads up to a viewing tower from where they can watch their prairie. She mentioned:
"We are still very much in love with the house and often incredulous with how well it "works."

Gloria and Bill in Texas told us about their Southern Cypress.
"The house is unbelievable.  So comfortable.  We had the hottest summer with temperatures in the low 100's for most of August.  Our electric bill was $90.00.  This winter has been pretty chilly for this part of the country and we mostly heat with a wood burning stove.  Our electric bill is less than $50.00.  We absolutely love the house and are still amazed at how well it holds temperature."  

Bill sent us a photo of the south view of his Mountain View 2 vacation home where the plan name is very suited to the site in Montana with grand mountain views surrounding.  Even when they are away for extended periods and the power goes out, the interiors stay well above freezing.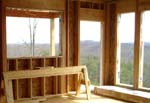 Here is one of many construction photos received from Sandy and Marilyn as they build their Nature's Corner home in Tennessee. This corner photo of their living rooms illustrates how we placed windows to capture their magnificent views of nature! (They started out requesting changes to one of our designs, but after extensive consulting, they realized that a custom-designed home would have less compromises.
We've also spoken with their builder, home energy rater, and HVAC subcontractor throughout construction. The next Sun Plans e-newsletter plans to feature News and Comments from Home Energy Raters and HVAC professionals that assist in creating a sun-inspired home. So stay tuned….

Jim Riggins, home owner AND home energy rater in Colorado had an article published: Heading for Net-Zero published in Home Power after he adapted the plan from our Northern Sun CAD files.  Home owners often impress us with their dedication to research and pricing of various insulation options, but Jim has excelled at this. If you too are heading for net-zero energy, please read his article and consider subscribing to Home Power. In the Custom Energy Specs that Sun Plans we for him, we listed several options for his high R-value home when he told us of his goal to build with the concept of the Passive House. He priced the numerous options along with some of his own!
Then only weeks later, Green Building Advisor's Energy Nerd, Martin Holladay, posted Superinsulated House Specs on his blog and in it he also talked about Jim's house! (Did you know that Green Building Advisor is our favorite green building website?)


We can already hear the requests asking to post these (and more) photos to our web site.  We wish we had many more photos and much more time to post them, but this is our busiest season and designing takes top priority.  Also, our home owners are very busy especially right after they move in and most choose not to send photos until they are comfortable with the finishing touches – and that can take years! In designing new homes, we typically utilize 3D design to allow the home owner to better visualize the home inside and out.