Thanks to our clients who have made these new plans possible by commissioning us to adapt these designs to fit their life-style, we can now share them with others!  The Custom Energy Specs with orders for Construction Prints or CAD Files come with recommendations for possible changes to adapt the home to other climates.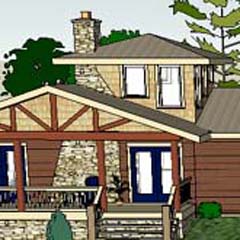 The French Cowgirl 3 has its extra bedrooms below in the sunny ground floor instead of up where they are less protected from extreme temperatures. The tower, however still provides a place for occasional second floor sleeping or sunset viewing.  With so many options for living on various levels, this home lives like a much larger home than its small footprint might initially portray.  Both the back, west sunset porch and the east front porch provide outdoor living areas that also expand the livability of the home. Exterior steps from both porches lead down to the lower, garden-like south patio that can be terraced with a variety of plants.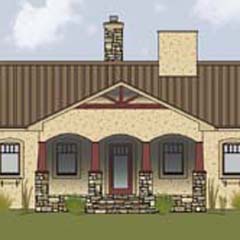 The Sunshine 5 is super sunny and comfortable with the extra high concrete mass in both the walls and floors which keep inside temperatures steady year-round.  A cozy corner sun room remains warm long into the winter evening with the west-facing glass. In summer, the west windows can stay open to prevent overheating and serve as a screened porch while the large north front porch receives maximum breezes with 3 sides open.  Craftsman touches in the front truss, window details and large stone-based columns adorn this simple, yet very low-energy home.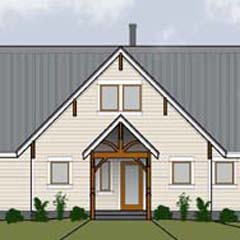 The compact Moorhaus Cottage 3 features clean-lined simplicity and the welcoming north-facing entry adds character with minimum costs. Its heavy timbers and craftsman-style knee braces are just one of many "quality over quantity" features of this passive solar home that can blend with the woods in rural areas as well as a smaller lot within a city neighborhood.
Visit our entire selection of pre-designed Sun Plans to Select a Sun Plan
or
Look at the custom changes process toAdapt a Sun Plan
or
View the custom design process to Create a Sun Plan