Below we share comments about designs in progress as well as under construction or recently completed.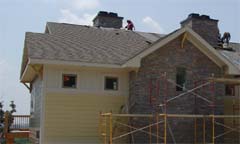 Sandy is building the Nature's Corner design and  tells us about how cool the house is as a result of the daylight cooling chimney in the middle of the home to let in light and let out hot air. On the exterior it resembles other chimneys as can be seen on this north side photo.
"…the ventilation chimney works all on its own. Yesterday was a scorcher…Several of the workers and I went into the house…the temperature difference was amazing….I could feel the breeze coming in from the open doors and from the basement. When I commented on it, one of the workers pointed at the exhaust chimney…you could feel it working. Thank you."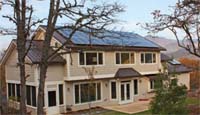 Andy built a version of the Northern Sun by modifying our CAD Files:
" For the last two years, I've generated about 15-32% more than I've consumed of electricity."
Andy suggests reminding subcontractors to keep roof penetrations to a minimum on south-facing roofs where photovoltaic panels may be added.
Jim sent us a photo of his Northern Sun (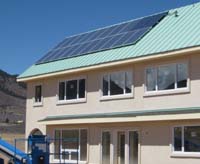 which he also adapted from our CAD files) which shows his shade line in late April right before they were moved in:
"Major milestone last Thursday… we went on line with 4.4 kW of solar power.  You can also see in the photo that our stucco is now complete also.  The solar hot water is going in this week."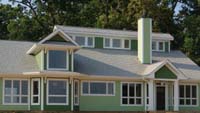 Mike and family just moved into their Equinox Homestead.
"We really like our new home, as do folks who drop by to check it out."
He also told us about some frustrating construction experiences so a healthy dose of patience is sometimes in order while building.
In an Islander 6, Ben's building inspector let them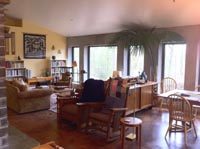 move in before construction was finished:
"As so often happens in owner-builder jobs, we've moved in before completion! (The colors are not great in these pics, so don't be shocked.)"
Sun Plans thinks the colors look great and looks forward to seeing the completed exterior.
Rita and Sean's custom home is being designed. They have passive cooling high on their priority list so we have designed in a long clerestory above a second floor loft to allow in light and increase air flow with operable windows.