Monthly Archive
You are currently browsing the monthly archive for September 2011.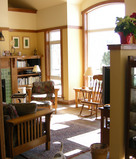 Home owners living in sun-inspired homes are aware of the changing seasons through variable light and sun patterns in their home. When asked what they like best about their sun-inspired home, Pam and Paul replied:
"The gorgeous sunlight and open plan for relaxed living; view of our pond – significantly reduced energy bills."
This Fall Equinox E-newsletter includes:
Planning a sun-inspired home
Involving a builder sooner rather than later
Comparing a "Sun-Inspired House" to a "Passive House"
Getting two Review Sets for the price of one!
Hearing from Debbie, our architect
It's refreshing to hear about construction success stories during the repressed economic times.  While some clients have decided to put construction on hold, others are building now to take advantage of lower interest rates and prices.
In addition, some are completing the Create-A-SunPlan process a year or more before the start of construction.  When their existing home sells, they will be ready to build.
Sun-inspired home owners are not only conservative when it comes to energy, but equally conservative with their money. They've saved a long time for the extra large down payment required when financing a home today. Sun Plans' affordable architectural design fees (about half that of a realtor's fee built into purchasing a home) allow for hard earned money to be spent on other features of a home.
How Sun Plans can help save you money
The goal of the sun-inspired design services is to help the home owner save money that exceeds the Sun Plans' architectural design fee in several ways:
A right-sized home can easily save 200 s.f. ($20,000+ in construction costs).
A right-shaped sun-inspired home can save 30% on both the heating and cooling bill (thousands of dollars over the life of a home).
A well-insulated home with a right-sized HVAC system and built to Energy Star standards can easily save another 30% on energy bills (more savings).
Often the heating and cooling loads are so low that thousands can be saved on installing smaller and simpler heating and cooling systems alone.
A home built to Passive House standards can save another 30%.
A net zero home can result in no or below zero energy use!
(The above list is in order of cost-effectiveness for most locations.)
Sun Plans recommends getting a general contractor (or building consultant for those who plan to build themselves) on board as early as possible as good builders are not always easy to come by.  Karen, who is building a Canyon View Sun Plan in Washington praises her builder:
"Our contractor…has been fantastic to work with… I think it is a mark of a good business when he has plenty of work scheduled in this economy…."
Tom who is building a Lakeside Sunrise in Pennsylvania told us yesterday:

"Our contractor is one of world's nicest, smartest people, and that has made all of the difference!"
Thinking of building the home yourselves? While it does involve a lot more time and comes with greater risks, some Sun Plans homeowners thrive in the intensive challenge.  And there are additional services that Sun Plans can provide for those customers who are creating or adapting a Sun Plan.  The services that we provide are tailored to each customer.

With the introduction of the "Passive House" into the U.S., it's only natural to be confused with the phrase and wonder how it compares to a passive solar house, such as a Sun Plan. A sun-inspired house has always been a passive solar house, but did you know that it can be a "Passive House"?

Read more about how a Sun Plan can be built to Passive House standards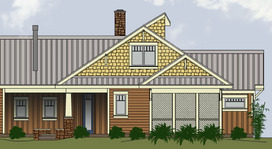 Designed with the Create-A-SunPlan process, what will be known as the RISE house on the website is about to begin construction in West Virginia.
Total Energy Cost: $60/month (estimated, all electric with propane for cooking), for more details, see above "Comparing a Sun-Inspired House to a Passive House"
Choosing the smallest living area that comfortably houses the family's activities is always a good place to start in planning a low energy home.  Every square foot saved in space equates to both initial construction cost savings and long-term energy savings. Sun Plans can assist in sorting through the family's priorities and requirements. It is possible to balance exterior attractiveness, views of nature, space-saving floor plans, right-sized exterior living spaces and delightful interiors with energy savings!
Sun Plans' clients have the option of choosing their level of energy standard. For instance, on the RISE home, the owners could choose to meet the Passive House standard by requesting that their builder and the insulation subcontractors be held to a high level of accountability on the air tightness, but achieving that low level of infiltration may be difficult.  Often owners may accept that $17/month is low enough for heating and cooling without taking additional extreme measures.
Sun Plans welcomes the opportunity create a sun-inspired home design for you!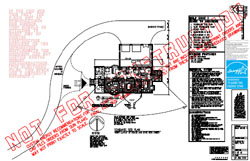 If time does not allow for creating a new sun-inspired home, selecting a pre-designed Sun Plan may be more appropriate. It's common to narrow the search down to two possible designs.
If you crave technical details, the Review Set will be invaluable.
Study Plans that show the floor plans with furniture (and without the construction notes) are included with Review Set orders, making it easy to visualize how your own furniture can fit in the spaces.


Until the end of September, buy one Review Set and get one of equal or lesser value for free!
Simply purchase one Review Set and respond to the automated email with the name of the desired free Sun Plan. The drawings in PDF format will then be delivered electronically.
(As always, the Review Set price is deductible from future orders of Construction Prints or CAD Files of any Sun Plan – even if you change to a completely different Sun Plan.)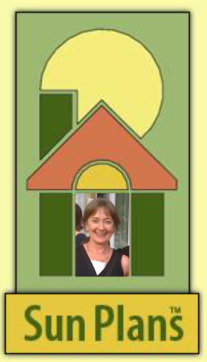 "Someone told me the other day that I seemed really happy.  When I paused to think about why that may be, I realized that simultaneously both my family and clients came to mind.  The homes that I help design begin to feel like family and clients make that possible. I am grateful that so many people have placed their trust and confidence in my ability to assist them in creating something that is such an important part of their lives."
We hope that you enjoy
reading the comments
from the question asked of the sun-inspired home owners who have placed their trust in Sun Plans:
"What do you like best about your sun-inspired home?"
Nathan, living in the Aurora Lights home surrounded by trees that do not block the sun, reports:

"Very comfortable, low energy requirements, great view. It is like living in a tree house with big windows."
Thanks for visiting with us!
If you would like to receive news from Sun Plans more frequently, please visit the Sun Plans Facebook page.