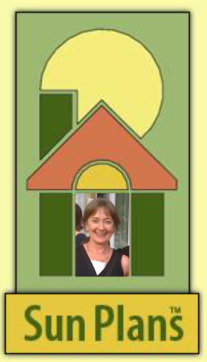 "Someone told me the other day that I seemed really happy.  When I paused to think about why that may be, I realized that simultaneously both my family and clients came to mind.  The homes that I help design begin to feel like family and clients make that possible. I am grateful that so many people have placed their trust and confidence in my ability to assist them in creating something that is such an important part of their lives."
We hope that you enjoy
reading the comments
from the question asked of the sun-inspired home owners who have placed their trust in Sun Plans:
"What do you like best about your sun-inspired home?"
Nathan, living in the Aurora Lights home surrounded by trees that do not block the sun, reports:

"Very comfortable, low energy requirements, great view. It is like living in a tree house with big windows."
Thanks for visiting with us!
If you would like to receive news from Sun Plans more frequently, please visit the Sun Plans Facebook page.