Category Archive
You are currently browsing the category archive for the '2 – June 2011 Summer Solstice' category.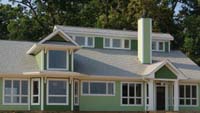 Stay Cool with Shade-Inspired House Designs!
In the heat of the summer, it's only natural to wonder about staying cool in passive solar homes. In this e-newsletter we share cooling strategies integrated into sun-inspired house designs as well as comments from Sun Plans' home owners.
We hope that you enjoy the shade-inspired home features!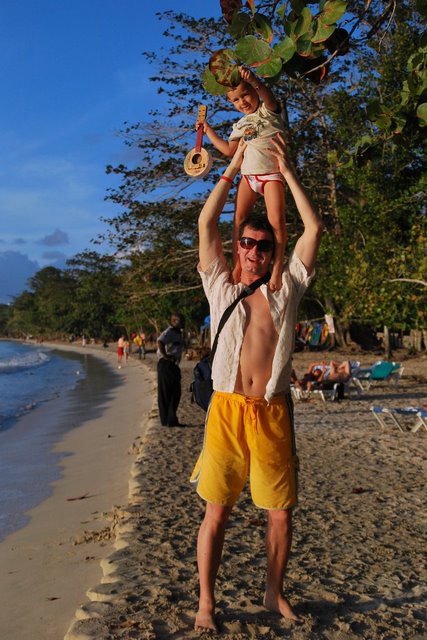 This Summer Solstice E-newsletter includes:
Follow Sun Plans on Facebook
Shade-inspired Cooling Strategies for Sun-Inspired Homes
News and Comments from Home Owners
The Sun-Inspired House E-book and Supplement Released!
New sun-inspired house designs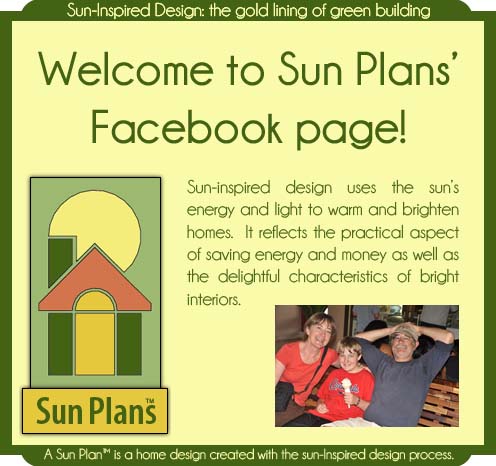 The intent of our Sun Plans Facebook page is to allow you to see and hear about Sun Plans through photos and comments more frequently than you do with our E-newsletters.  Sun Plans' homeowners may post photos and comments about their sun-inspired home that will be readily available.
Visit Sun Plans' on Facebook now
If you have specific questions about our plans and services, it is preferred that you use the Contact Us form on our website which is designed to allow you to provide more information than is typically shared on Facebook.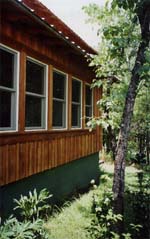 Orientation of the South Wall:
Custom Energy Specs
that are a part of sun-inspired home designs include recommending an orientation as part of the provided services. In conjunction with the latitude, climate, details of each plan and the customer's preferences, a recommended orientation is provided.  Orienting the home a little to the southeast so that the south wall of home is in the shade by mid-afternoon in summer is a common recommendation that results in little winter heating penalty.
(The green house at the top of the newsletter shows the entire south wall of the home in shade late in the afternoon as would be the case with a slight easterly orientation.)
South Overhang Length: Ideally, overhang lengths should allow for full sun in the winter from 9:00 a.m. to 3:00 p.m. on the Winter Solstice and full shade on the Summer Solstice during the same time period. This varies based on latitude, climates and the particular roof to wall overhang detail as well as wall and window heights of each design.
(The photo here shows the shade line for a home in a warm climate extending past the bottom of the window to allow for an extended shading season in summer.)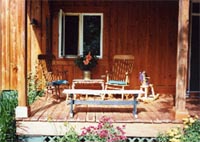 Shade east and west windows:  Porches and trees placed on the east and west sides of homes keep the intensive morning and afternoon sun off of both the glass and the house!
(Note the shade line across this west-facing porch.)
Passive Cooling:  Where the night temperatures drop below 68 degrees F, some home owners find passive cooling desirable in summer – or at least during late spring and early fall with some of the following window strategies:
– Windows and doors on opposite sides of rooms increase cross breezes
– Casement windows have a greater operable area when open AND scoop air with out-swinging windows which increases air flow.
– Opening windows on both upper and lower floors (including daylight basements) increases the stack effect of passive cooling which again increases air flow.
(The photo above shows a casement window open 90 degrees to the wall.)

The Sun-Inspired House (including the new electronic PDF version) has much more information about sun-inspired design.
The Sun Inspired House E-book is now available, along with the supplementary document. Together, the electronic books contain over 400 pages and over 100 home designs in PDF format!
The E-books hold the same combination of educational content and house plan ideas, but are more environmentally friendly with no paper or shipping. They can be read with any PDF reader on desktops, tablets or smart phones and the documents are delivered electronically.
Purchase The Sun-Inspired House E-book with Supplement today through our Secure Online Store!
Below we share comments about designs in progress as well as under construction or recently completed.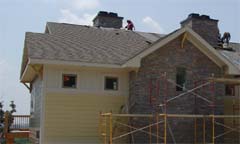 Sandy is building the Nature's Corner design and  tells us about how cool the house is as a result of the daylight cooling chimney in the middle of the home to let in light and let out hot air. On the exterior it resembles other chimneys as can be seen on this north side photo.
"…the ventilation chimney works all on its own. Yesterday was a scorcher…Several of the workers and I went into the house…the temperature difference was amazing….I could feel the breeze coming in from the open doors and from the basement. When I commented on it, one of the workers pointed at the exhaust chimney…you could feel it working. Thank you."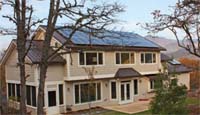 Andy built a version of the Northern Sun by modifying our CAD Files:
" For the last two years, I've generated about 15-32% more than I've consumed of electricity."
Andy suggests reminding subcontractors to keep roof penetrations to a minimum on south-facing roofs where photovoltaic panels may be added.
Jim sent us a photo of his Northern Sun (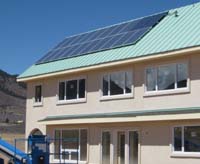 which he also adapted from our CAD files) which shows his shade line in late April right before they were moved in:
"Major milestone last Thursday… we went on line with 4.4 kW of solar power.  You can also see in the photo that our stucco is now complete also.  The solar hot water is going in this week."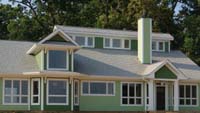 Mike and family just moved into their Equinox Homestead.
"We really like our new home, as do folks who drop by to check it out."
He also told us about some frustrating construction experiences so a healthy dose of patience is sometimes in order while building.
In an Islander 6, Ben's building inspector let them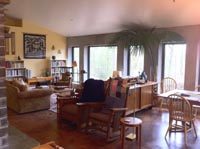 move in before construction was finished:
"As so often happens in owner-builder jobs, we've moved in before completion! (The colors are not great in these pics, so don't be shocked.)"
Sun Plans thinks the colors look great and looks forward to seeing the completed exterior.
Rita and Sean's custom home is being designed. They have passive cooling high on their priority list so we have designed in a long clerestory above a second floor loft to allow in light and increase air flow with operable windows.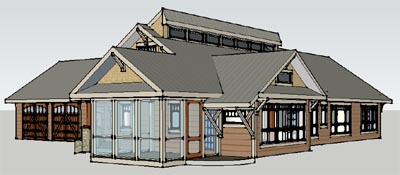 Thanks to our clients who have made these new plans possible by commissioning us to adapt these designs to fit their life-style, we can now share them with others!  The Custom Energy Specs with orders for Construction Prints or CAD Files come with recommendations for possible changes to adapt the home to other climates.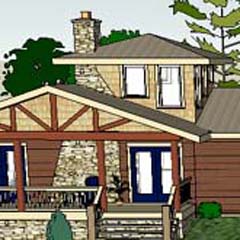 The French Cowgirl 3 has its extra bedrooms below in the sunny ground floor instead of up where they are less protected from extreme temperatures. The tower, however still provides a place for occasional second floor sleeping or sunset viewing.  With so many options for living on various levels, this home lives like a much larger home than its small footprint might initially portray.  Both the back, west sunset porch and the east front porch provide outdoor living areas that also expand the livability of the home. Exterior steps from both porches lead down to the lower, garden-like south patio that can be terraced with a variety of plants.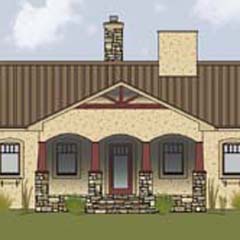 The Sunshine 5 is super sunny and comfortable with the extra high concrete mass in both the walls and floors which keep inside temperatures steady year-round.  A cozy corner sun room remains warm long into the winter evening with the west-facing glass. In summer, the west windows can stay open to prevent overheating and serve as a screened porch while the large north front porch receives maximum breezes with 3 sides open.  Craftsman touches in the front truss, window details and large stone-based columns adorn this simple, yet very low-energy home.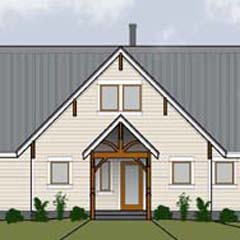 The compact Moorhaus Cottage 3 features clean-lined simplicity and the welcoming north-facing entry adds character with minimum costs. Its heavy timbers and craftsman-style knee braces are just one of many "quality over quantity" features of this passive solar home that can blend with the woods in rural areas as well as a smaller lot within a city neighborhood.
Visit our entire selection of pre-designed Sun Plans to Select a Sun Plan
or
Look at the custom changes process toAdapt a Sun Plan
or
View the custom design process to Create a Sun Plan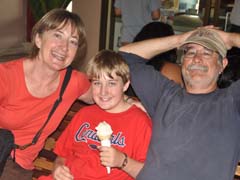 Relax in a hammock under the shade trees, watch the sunset from a north deck, read a book from a cool (but sunny) daylight basement, open the windows during cool  nights, swim in a lake, kayak on a clear river, canoe a crystal spring, snorkel around a reef, and eat ice cream with fresh blueberries!
Thanks for visiting with us!
If you are living in a sun-inspired home, post a photo of your favorite shady spot in or around your home, or a snapshot of the overhang shade line on your south wall on the Sun Plans Facebook page.