Tag Archive
You are currently browsing the tag archive for the 'customer comments' tag.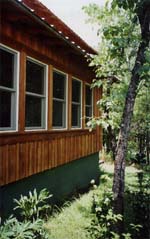 Orientation of the South Wall:
Custom Energy Specs
that are a part of sun-inspired home designs include recommending an orientation as part of the provided services. In conjunction with the latitude, climate, details of each plan and the customer's preferences, a recommended orientation is provided.  Orienting the home a little to the southeast so that the south wall of home is in the shade by mid-afternoon in summer is a common recommendation that results in little winter heating penalty.
(The green house at the top of the newsletter shows the entire south wall of the home in shade late in the afternoon as would be the case with a slight easterly orientation.)
South Overhang Length: Ideally, overhang lengths should allow for full sun in the winter from 9:00 a.m. to 3:00 p.m. on the Winter Solstice and full shade on the Summer Solstice during the same time period. This varies based on latitude, climates and the particular roof to wall overhang detail as well as wall and window heights of each design.
(The photo here shows the shade line for a home in a warm climate extending past the bottom of the window to allow for an extended shading season in summer.)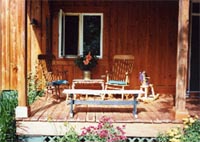 Shade east and west windows:  Porches and trees placed on the east and west sides of homes keep the intensive morning and afternoon sun off of both the glass and the house!
(Note the shade line across this west-facing porch.)
Passive Cooling:  Where the night temperatures drop below 68 degrees F, some home owners find passive cooling desirable in summer – or at least during late spring and early fall with some of the following window strategies:
– Windows and doors on opposite sides of rooms increase cross breezes
– Casement windows have a greater operable area when open AND scoop air with out-swinging windows which increases air flow.
– Opening windows on both upper and lower floors (including daylight basements) increases the stack effect of passive cooling which again increases air flow.
(The photo above shows a casement window open 90 degrees to the wall.)

The Sun-Inspired House (including the new electronic PDF version) has much more information about sun-inspired design.
Below we share comments about designs in progress as well as under construction or recently completed.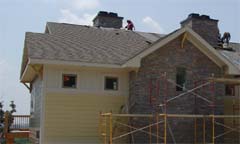 Sandy is building the Nature's Corner design and  tells us about how cool the house is as a result of the daylight cooling chimney in the middle of the home to let in light and let out hot air. On the exterior it resembles other chimneys as can be seen on this north side photo.
"…the ventilation chimney works all on its own. Yesterday was a scorcher…Several of the workers and I went into the house…the temperature difference was amazing….I could feel the breeze coming in from the open doors and from the basement. When I commented on it, one of the workers pointed at the exhaust chimney…you could feel it working. Thank you."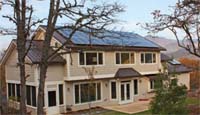 Andy built a version of the Northern Sun by modifying our CAD Files:
" For the last two years, I've generated about 15-32% more than I've consumed of electricity."
Andy suggests reminding subcontractors to keep roof penetrations to a minimum on south-facing roofs where photovoltaic panels may be added.
Jim sent us a photo of his Northern Sun (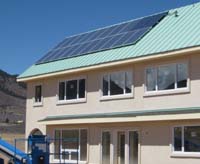 which he also adapted from our CAD files) which shows his shade line in late April right before they were moved in:
"Major milestone last Thursday… we went on line with 4.4 kW of solar power.  You can also see in the photo that our stucco is now complete also.  The solar hot water is going in this week."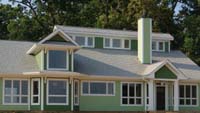 Mike and family just moved into their Equinox Homestead.
"We really like our new home, as do folks who drop by to check it out."
He also told us about some frustrating construction experiences so a healthy dose of patience is sometimes in order while building.
In an Islander 6, Ben's building inspector let them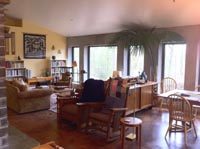 move in before construction was finished:
"As so often happens in owner-builder jobs, we've moved in before completion! (The colors are not great in these pics, so don't be shocked.)"
Sun Plans thinks the colors look great and looks forward to seeing the completed exterior.
Rita and Sean's custom home is being designed. They have passive cooling high on their priority list so we have designed in a long clerestory above a second floor loft to allow in light and increase air flow with operable windows.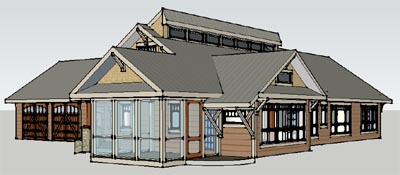 Below we share comments from those living in or building a sun-inspired home.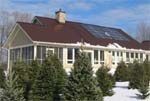 Bruce in New York, in Ryan's Retreat shared with us:
 

"The passive solar design was definitely the right decision and we see those advantages more and more with each season we go through.  We love how light the house is and how warm it stays (especially when the sun has been out during the cold days).  I often tell people that my favorite thing about the living room is that it feels like you are on an outdoor porch, but you are inside."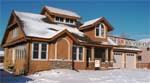 Matt Fredell, builder with Innovative Structures in the Denver area, sent a photo link to his Facebook page with photos that include a huge banner proclaiming:

"Let the sun heat your home!"
Matt is building a spec home variation of the Adirondack Atrium.

Todd from Oregon told us about his Equinox Homestead:
"We have a Tulikivi masonry heater, which we love.  The light in the house is fantastic, and when you get a nice sunny day in January the house heats up really nicely- don't need to build a fire on sunny days."

Conni from Montana sent us their newsletter full of photos illustrating their passion for the outdoors.  Their French Cowgirl home in Montana has a ships ladder that leads up to a viewing tower from where they can watch their prairie. She mentioned:
"We are still very much in love with the house and often incredulous with how well it "works."

Gloria and Bill in Texas told us about their Southern Cypress.
"The house is unbelievable.  So comfortable.  We had the hottest summer with temperatures in the low 100's for most of August.  Our electric bill was $90.00.  This winter has been pretty chilly for this part of the country and we mostly heat with a wood burning stove.  Our electric bill is less than $50.00.  We absolutely love the house and are still amazed at how well it holds temperature."  

Bill sent us a photo of the south view of his Mountain View 2 vacation home where the plan name is very suited to the site in Montana with grand mountain views surrounding.  Even when they are away for extended periods and the power goes out, the interiors stay well above freezing.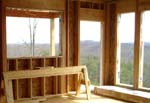 Here is one of many construction photos received from Sandy and Marilyn as they build their Nature's Corner home in Tennessee. This corner photo of their living rooms illustrates how we placed windows to capture their magnificent views of nature! (They started out requesting changes to one of our designs, but after extensive consulting, they realized that a custom-designed home would have less compromises.
We've also spoken with their builder, home energy rater, and HVAC subcontractor throughout construction. The next Sun Plans e-newsletter plans to feature News and Comments from Home Energy Raters and HVAC professionals that assist in creating a sun-inspired home. So stay tuned….

Jim Riggins, home owner AND home energy rater in Colorado had an article published: Heading for Net-Zero published in Home Power after he adapted the plan from our Northern Sun CAD files.  Home owners often impress us with their dedication to research and pricing of various insulation options, but Jim has excelled at this. If you too are heading for net-zero energy, please read his article and consider subscribing to Home Power. In the Custom Energy Specs that Sun Plans we for him, we listed several options for his high R-value home when he told us of his goal to build with the concept of the Passive House. He priced the numerous options along with some of his own!
Then only weeks later, Green Building Advisor's Energy Nerd, Martin Holladay, posted Superinsulated House Specs on his blog and in it he also talked about Jim's house! (Did you know that Green Building Advisor is our favorite green building website?)


We can already hear the requests asking to post these (and more) photos to our web site.  We wish we had many more photos and much more time to post them, but this is our busiest season and designing takes top priority.  Also, our home owners are very busy especially right after they move in and most choose not to send photos until they are comfortable with the finishing touches – and that can take years! In designing new homes, we typically utilize 3D design to allow the home owner to better visualize the home inside and out.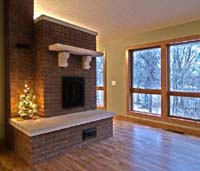 In October, a modular version of the Prairie Dog 2 was set on the land and two months later the home owners moved in!
If there is a modular company within 500 miles of your land , then consider the time and cost savings (estimated to be around 10%) of partial construction in a plant or factory.  Any SunPlan can take advantage of this.   Why not send a PDF version of a SunPlans Review Set for pricing from a modular company along with submitting one to your local builder. Perhaps they can jointly build your home for the best of both worlds.
All American Homes that serves the mid-west to the northeast constructed this home in Indiana by using the design and copyright release purchased from Sun Plans.  They modified the design to fit their personal construction methods and made a few other changes for the client at the same time such as adding a large masonry wood stove to replace some of the floor mass to store the sun's heat.  The home was finished on-site by Easy Living Homes in Indiana and we thank them for sharing photos.  Read more about the Prairie Dog 2.
(As with all SunPlans, it is still recommended to hire a third party home energy rater to assure that proper attention is given to the energy detailing during construction as is found in our plans and specs, and then tested to prove the homes performance. Sun Plans' clients find that the best builders actually encourage this third party verification.)
"The energy rater gave a solid 'wow' to the results of the blower door test!"
Steve and Peggy recently completed their 2464 s.f. sun-inspired home, Chapel Ridge.  They were very pleased with the process of Creating-A-SunPlan.
"We consider you a friend and it was such a great experience working with you as our architect – you were so patient trying to understand what I wanted and working with me and Steve to get the design we have now," said Peggy in a recent email to our architect.
The homeowners were equally pleased with their builders, Kevin Murphy and Vernon Little, Anchorage Builders, NC. Vernon also enjoyed the process,
"It has been a rewarding project full of great stories and should be a wonderful, comfortable and energy efficient home for them….The energy rater gave a solid 'wow' to the results of the blower door test!"
(Sun Plans recommends blower door testing during and after construction as the primary method of verifying the tightness of a home in order to keep in the heat in winter and keep out the heat and humidity in summer. Air infiltration alone accounts for a much larger part of the heat gain and heat loss than most people realize. Energy transferred through cracks can even be higher than the amount of heat lost or gain through the insulation.  Energy Star certification requires blower door testing.)
Vernon also gave us a rundown of the house built in IECC 2006 Climate Zone 4: (See more about climate zones further in the email.  Recommendations may vary for other climate zones, different plans and for other type of auxilliary heating equipment.)
"The basics: Raised slab foundation. R10 insulation underslab and R7 at slab edge. Radiant floor heat – 4 zone. 2×6 walls, Spray foam insulation – full envelope, 16 seer heat pumps, variable speed, fresh air, extra returns, solar hot water and hot water circulation loop, traditional hardcoat stucco siding, Marvin casements w/ integral alum cladding, stone veneer foundation, quoins, 6″ rain gutters (piped to cistern to feed irrigation) pre-plumbed for PV on garage, stone porches, patio, and front walk, true timber frame interior and porch details, cherry trim and int. doors, tile and Ash flooring throughout, custom ash, walnut, and cherry stair case, custom built-ins, granite tops, (future) hickory mantle from site milled tree. No or low voc paints and locally made finish for exposed wood work. (Earthpaint)"
An excerpt from the architect:
After finally finding a subdivision that allowed them to build a home less than 2500 s.f., Peggy and Steve (retired) drove across several states to meet with me in our office to start the design process.  (This is not necessary with our internet-based process, but an option for those who prefer to do so.) After spending hours reviewing all their requirements (both in the questionnaire that they had previously sent in and hearing more about the details) and looking at photos of homes they like, Peggy hesitantly pulled out a photo of a home with a charming cottage-like character and told me something along the lines of "this is the style that I really like but I guess I can't have that look and have a passive solar home".  It had never dawned on me that the homes found on our web site might limit the ideas that others believe could be incorporated into their own home.  Needless to say, it was a major turning point in the project.
Read more reviews from Sun Plans' Create-A-SunPlan clients
Some of our clients have shared stories of construction and joy at their almost completed or just-moved-in sun-inspired homes and we've decided to share those stories with you!
Note: The pictures featured below during construction may not be found on the website.  Check back periodically to see if we have received any photos of the completed homes.
Please scroll below to view comments from home owners.
Kerry and Cheryl are almost finished with their sun-inspired home and shared details of their cozy home with us. Last 
weekend the said the outside temperature was 96 degrees. and the inside was 68 degrees. This past weekend had outside temperatures of 27 degrees (it snowed above timberline) and inside was 60 degrees. "We lit a small fire in the Hearthstone and really enjoyed how it heated the place right back to 68 degrees in about three hours." The couple live in the cold-climate IECC Climate Zone 6 with no air conditioning.
We adapted the Northern Lights 4 for them. Changes included exterior wall customized for their particular ICF block, heavy timbers added to exterior porches and great room ceiling as well as miscellaneous changes. Today they just let us know that they moved in:
"We get great comments on the layout, the windows, the roof line, the northern New Mexico look, and the timbers inside and out.  The east porch is a favorite of everybody that has come by so far.  Actually the garage apron on the west side too…. it's warm there when the suns sets and you get quite a view of the stars."
View the new Northern Lights 4 drawings
(or scroll below for a summary introduction to it)
Joan and John have been enjoying their reversed Roseburg Cottage 7 in the moderate Climate Zone 4.
Their home was built with the garage doors moved to the back of the home while the second floor was altered to have an upstairs loft and deck (atop a screened porch) like the Roseburg Cottage 3. Their local design professional made the changes from our CAD
Files.
"The southern rooms are wonderfully bright during these winter months. I am eager to see these rooms in the summer. Thanks for your wonderful plans. The plans, coupled with our fantastic location, have created a perfect home."
It looks like the couple have gotten their wish to see their home in the summer as spring months are falling behind us!
Conni and Craig looked through house plan after house plan. Being outdoor people and having three children on the downhill side of growing up, they sensibly realized that they only needed a small home. Unfortunately, there was not a small enough plan on the Sun Plan's Web to meet their needs and their budget. They could have "settled for" the relatively small first floor of Fernwood with its 1484 s.f., but instead chose to Create-A-SunPlan. They saved over 300 s.f. with a custom design. That was almost $50,000 worth of first floor and daylight basement square feet. The Sun Plan's design fee was less than 20% of that which saved them over $40,000. That sums up one of our primary goals with custom design – to save you money in construction costs.
In addition to the quote from their letter, Conni also shared:
"We've been in the house since Sept. 27th and we LOVE it! It has performed amazingly well. We've had an exceptionally cold winter and it's so nice to come home to a cozy, warm house – often over 70 degrees Fahrenheit – when it's been below zero all day (and the heat is free!) After working on this house, our heating guy is sold on passive solar and highly recommends it to others. We're comfortable when just the 2 of us are home, yet the house handles crowds well too (30+ for a 4-H mtg/lunch, 16 for Thanksgiving, etc.) There was never a "breaking-in" stage; this house immediately felt like home."
Needless to say, these kinds of letters make our day!
We were happy to receive this comment from Lisa about her Heartland home in Missouri.
"I wanted to let you know how much we like our house. We built Heartland this year and moved in on Christmas day.
As I write this, our thermostat is set on 68, but it is 75 degrees in the house. The high today was 42, and there was hardly a cloud in the sky. The sun set almost 4 hours ago and now it's 25 outside. Inside, I'm comfortable in yoga pants and a tank top. I'm barefooted, because the tile floor is still toasty warm from the sun. It doesn't matter how cold it gets during the day, if the sun is out, the furnace doesn't come on. On sunny days, it's always summer in here!
We're using a zoned geothermal heat pump, and that, combined with the passive solar, make this a very comfortable house. It's bright and open and sunny and warm. Even on cloudy days it's quite nice, with the big windows and the serious insulation. This house just feels good."
Maria who built the Roseburg Cottage 2 in West Virginia writes,
"The passive solar design is WONDERFUL and we are finding many days during the recent cold snap that our heat did not come on."
Delton who built the Islander 6 in South Dakota writes,
"Debbie was great to work with and we really like the house, on any sunny day above 0 degrees the house gets to about 73-75 degrees and will hold a 68 degree temp till after midnight. Not bad seeing as how we lose sunlight in the windows by 4 PM"
Dale who built the Equinox 3 in Colorado writes,
"We are thrilled with the design and plans, and we love the house. It is very bright, and the passive solar design works beautifully. In summer 2008 we received the city of Lakewood's Sustainability Award."
Have you seen the comment page on the web site?
http://www.sunplans.com/html/client_comments.php3
"….We have now been in our Northern Sun home for more than two years…(after we are away) when we go in the house, we are always overwhelmed with joy by its spacious, welcoming light and warmth. It has always been good to return home, but this is the only house that we have had that gives us such pleasure of "welcome home." We are so pleased that we found you as an architect and a local builder who built with pride for a lifetime. And when we have visitors it is fun to watch them look around to take in the space and then listen as we explain passive solar. So again, thanks for your creative work. It has brought much enjoyment to our lives." Shalom, Dave and Sweet
…and here are some comments from custom design clients…
http://www.sunplans.com/html/custom_client_comments.php3